Hey, ya'll…big moment! You're ready to do it – connect with your customers on Facebook live! Read on to find basic but important Facebook live tips that will help you prepare and give both yourself and your viewers the best experience possible.
It can be both exciting and nerve-wracking to go live for the first time. But this is a fantastic opportunity for you to reach current and future customers with your brand. Trust me, this has been an absolute cornerstone to our business!
Any chance to make your company more personal and relatable will make people want to support you. This is how you build your fan base before you even start a blog! I get that it can be scary for a lot of people, so I'm going to walk you through the entire process.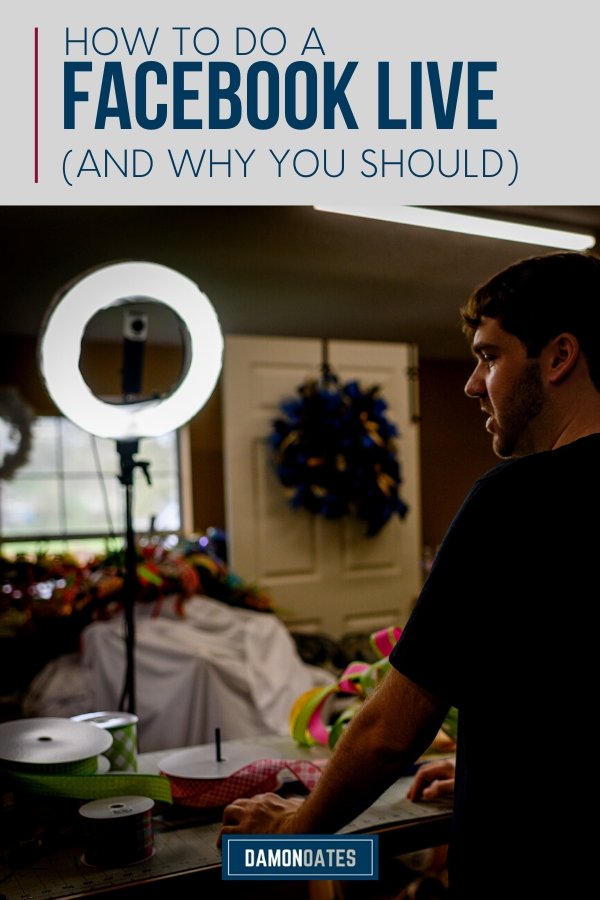 How to Go Live on Facebook
There are lots of things you will want to do before hitting that "go live" button. I'm happy to share an easy tutorial that will walk you through proper lighting, sound, and even emotional prep.
Plus, we will look at why it's so important to do Facebook live.
Prepare Yourself Emotionally
Before you do anything else, prepare yourself emotionally. Are you a natural entertainer? Then this will be simple for you. Take inventory of your biggest weaknesses and how you will address them.
If you are easily distracted, turn your phone to silent and turn off notifications on your computer. You need to be completely focused during this event so the customers get the exact message you want them to receive.
If you are on the shy side and this makes you nervous, then take some calming deep breaths before hitting the button. One thing that will help is if you have a support person that will watch and chat with you during the session.
Rope in a friend or family member, and make them promise to show up and interact. Then, do the live video as though it's just an everyday video chat with that one person.
Set Up Good Lighting
Next, lighting is very important. Record a practice live at the exact same time and place and see if there are any bad shadows or glares. Avoid sitting right behind a bright window. Ring lights are excellent for videos like these. They will spread light around your face and body so everyone can see you clearly. If you don't have professional lighting, don't let that hinder you! Find yourself a sunny area and park your camera there.
Organize Talking Points
This is especially important if you get nervous or distracted easily. Write the most important talking points that you don't want to forget.
This is also really helpful when you experience lulls in between people interacting or chatting. When things get quiet, it can feel awkward. Just move from your current point to the next one.
And remember, even if there aren't many people watching at this exact moment, this video will be saved to your page and people can watch it later.
Use a Microphone
Set up a high-quality microphone. You can use wired earbuds but practice with them first. If you move around a lot when you talk, the mic could get caught in your arm or make annoying sounds as it moves against your clothes.
Ideally, you'd have an external microphone that is separate from your laptop or phone. If you don't, don't let that stop you from moving forward – just be aware and try not to move around much.
Go Live
Now you are ready to do your Facebook Live. Here's how to do it if this is your first time.
These directions will be different if you are using the app or going live from a desktop computer. But the process is basically the same. You'll find the "Live" button, tap it, and follow the prompts to Go Live.
Click the camera icon underneath your business page's header. It should say "Live."
Give Facebook access to your camera and microphone when prompted.
Choose your privacy and posting settings.
Write a description that will attract viewers
Set your camera's orientation.
Click the blue "Start Live Video" button to start broadcasting.
Interact with viewers and commenters.
Click "Finish" to end the broadcast.
Post your reply and save the video to your camera roll.
Analyze Your Live & Improve
After your Facebook live is over, let it save and take a deep breath. You did it! It's important to go back and watch it. Some people cringe when they watch themselves on video. But this part will help you improve future Facebook lives. Watch and analyze the video for the following things.
Distracting hand motions
Talking too fast
Saying the same distracting words (such as like or um)
Is it easy to follow?
Did you tell the story you wanted?
Did you accomplish your Facebook live goal?
Lighting
Sound
Is the setting distracting?
Remember, practice makes perfect, even with Facebook live videos. The more you do it, the more comfortable you will become. And the more comfortable you are, the more confident you will be. This confidence will shine through and make your videos more engaging.
How to Save Facebook Live Videos
There are lots of reasons to save Facebook live videos. Maybe you want to upload it to your website or use it again in other locations. Some people like to reuse Facebook live video clips on Twitter and Instagram.
Thankfully, this is pretty simple. Here's how to download Facebook live videos.
Open the live video on your Facebook page.
Tap the 3 dots on the top right side of the video. This brings up different options, click "download video."
That's it! It will start downloading to your computer as an MP4 video.
If you have ever wondered, "are Facebook live videos saved?" the answer is yes, they are. Facebook automatically saves them to your business page where you broadcast from.
But they are not automatically downloaded to your computer. You will have to do that after it publishes to Facebook later.
Why You Need to Do Facebook Live
Now you know how to do a Facebook live and then analyze it to perfect your broadcasts. But are you still on the fence about doing them at all? There are actually quite a few reasons that Facebook live videos benefit small businesses and brands.
First of all, they get so much more engagement than other posts. Videos see at least three times the engagement of other kinds of posts on Facebook. You will reach so many more people this way and without having to pay Facebook to boost the post.
It's also a chance to build relationships directly with your customers and share your brand's story. You have complete control of your brand's voice and image when you are the one telling it.
How often do you get the chance to talk directly to your customers and be in total control of your brand's image? This is a priceless chance to be completely authentic and answer questions people have.
Finally, it conveys an unspoken message to your customers. It tells them your brand is accessible and real. You go from products and a logo to a real person. This is extremely valuable in the age of notifications that people try to ignore. If you can make your business more personal, people will be more likely to support it.
Try A Facebook Live
Go for it! Get a few people around you to support you and give it a shot. Chances are you'll enjoy it so much that you'll want to set up a regular Facebook live event each month.